YOUR COACHING PHOTOS
A lot of people tell me that they don't know what personal brand photos they should be sharing in their coaching business. It can help to see things from a potential clients' point of view.
I'm not a control freak at all, but when it comes to choosing a coach (or basically anyone I need to invest in – emotionally or financially) I'm really picky. Our brains are wired for survival, and there's way too much risk involved in letting ourselves get invested in the wrong person.
With AI-created content becoming more common, the photos you share and the genuine connection you have with your audience will only become more important.
THE CLIENT'S JOURNEY THROUGH YOUR CONTENT
Before I even make contact with a business, I want to see the person I would potentially be working with and how that would look and feel. If I come across a website or Instagram account full of text and no photos, I don't stick around to find out more. It doesn't matter how amazing the content is.
Even if you come recommended, most potential clients will visit your website to check that you have the competence, approach and offer that is right for them. They'll probably then jump to social media to dive deeper into who you are and to confirm their initial thoughts about working with you.
At this stage they are eliminating hesitations and confirming their initial impressions.
WHY YOU NEED TO SHARE PHOTOS AS A COACH
Sharing photos in your coaching business:
builds trust and credibility and helps your audience make a decision

helps to differentiate you from all the other coaches out there

quickly sends the message that your business means quality

helps you to attract and connect with your ideal clients (and to help the others realise that they would be better suited to a different coach).
If your photos don't do this, visitors will just click away and keep scrolling until they find someone else.
5 MUST-HAVE PHOTOS FOR YOUR COACHING BUSINESS
1 Portraits that feel like you
Good quality, on-brand portraits are essential for coaches. Try to combine professional and personal shots that feel relaxed. It doesn't have to be a traditional headshot, and you can include more of your environment or hold something in your hand.
Find your own version of professional that reflects your authentic self and way of working.
Someone dressed in a woolen jumper with relaxed body language can feel more reassuring to some people, while someone dressed in a suit with a serious expression will be more relatable for someone else.
Keep in mind that clients are looking for reassurance that they are investing in the right coach. Quality portraits can show that you care about the details and hint at the high-quality service that you provide.
2 Action shots in work-mode
To help potential clients envision working with you, consider sharing photos of you preparing for coaching sessions, working with clients, leading workshops or giving presentations.
What does a coaching session with you look like? Is it relaxed? Casual? Formal?
Do you coach clients online? Show this. All you need is a laptop, perhaps some headphones and the right facial expressions and body language to show that you're coaching someone. 
If you do in-person coaching, where would it be? Invite someone to act as your client and take photos in a space that reflects your usual coaching location. Perhaps it's a corporate setting, or a more relaxed room with plants, a sofa and cosy cups of tea.
'Walk-and-talk' sessions in nature can be a great way of standing out from the crowd of other coaches and highlight your approach much faster than any text will.
Keep in mind:
Don't be afraid to ask a friend or colleague to stand in as your client. In my experience, most people are more than willing to help. (Offering fika or lunch after the session can sometimes help to sweeten the deal.)
Invite people who fit your description of your ideal client. For example, if you are a health coach helping women in their 50s and 60s, try to find someone like this rather than your husband or 20 year old daughter.
Have genuine conversations with your invited 'client' that naturally elicit the expressions and gestures that come naturally during a real coaching session.
3 Routines and habits
Share routines or habits that are important in your daily life. These tend to have a crossover into your business, and will inspire your audience and help them to get to know and connect with you.
What makes you you?
Would it be natural to find you snuggling up with a cup of tea with a good book? Because sharing photos of this will connect with the clients who would be doing the same.
If you love adventure and find that mountain-climbing and running fill you with inspiration and give you the perspectives that you bring to your coaching sessions, include this. Your dream clients will be able to relate and know that you will get them.
Do your clients dream of building a flexible business that takes them around the world? Share photos of you travelling and living the life they dream of and that you can help them achieve. If it's authentic to you and part of your own 'why', it will inspire. (If it's not though, it can come across as fake, so be true to what's right for you.)
If you recommend a morning routine of meditation, journaling and exercise for your clients, show this so they know what to expect.
Include a variety of expressions to suit a range of captions for social media.
Remember that personal and private are not the same thing. Showing who you are in your photos is just one more way of ensuring your audience that you are the right coach for them. It doesn't mean you have to reveal anything private that you don't want to. You don't have to share photos of your breakfast or your family if it's completely irrelevant to your business or if you just prefer not to.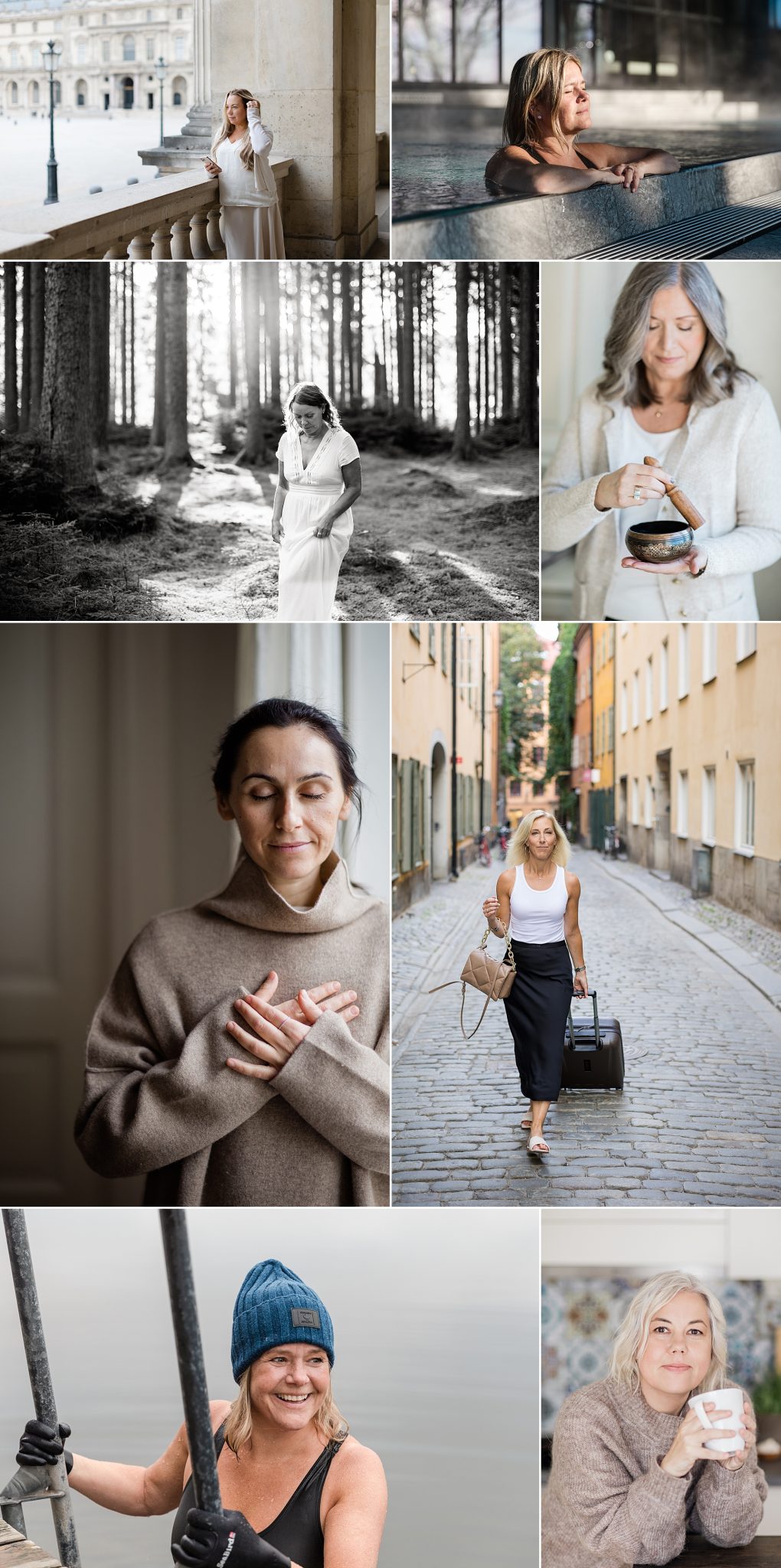 4 Details
Detail photos can be a great way to add interest and to create harmony in your Instagram feed and website.
Photos of you won't always pair well with the text you're writing, and can also lead to a chaotic Instagram feed if there's no variation or 'breathing space'.
Include props that you would naturally use in your business, such as a laptop, notebook and pen. Perhaps headphones and a microphone for online sessions.
Think about what details would enhance your visual brand. Why not include flowers, plants and design details in the room?
Props can be a great way to incorporate your brand colours in your photos and it can help you to infuse your personality. If travelling is an important part of your life, your story and how you coach, include items that you've collected on your travels.
You can include yourself in the detail photos, for example, writing in a notebook or typing on a keyboard, holding a cup of coffee or your hand adjusting your hair, or just closeup photos of the items.
Just make sure the props you include are meaningful to you, appropriate for your visual brand and relevant for your business.
5 Client success stories
Social proof is powerful. Sharing testimonials along with photos and stories of the transformation your clients have noticed will help to make you the obvious choice for your potential clients.
You can take these photos yourself during a session or ask your clients to take the photos and send them to you.
Tip: Don't be afraid to give them some suggestions for how to take the photos so that they are good quality and will fit in with your own photos. They can't go wrong if they stand in front of a window with indirect natural light and a clean background behind them.
WANT TO BOOK A PHOTO SESSION WITH ME?
Sharing photos in your business doesn't need to be overwhelming and having the right photos can make your marketing efforts so much more efficient and impactful. I hope these tips help. Visit my portfolio page for more inspiration.
If you would like to work together so we can strategically plan the photos that are right for you and your business, click here to have a look at the different packages that I offer. The planning process always starts with a questionnaire so I can get to know you and your business and we can work out the details from there.