My own personal paparazzi
Wouldn't it be amazing to have your own personal photographer with you all day, every day?? Yeah, I do understand how crazy that sounds, but I would actually love this.
Not because I love having my photo taken (so far from it!).
But because whenever I plan social media posts, newsletters and any kind of content, I also come up with a lot of ideas for photos that would match and I just can't take these photos myself.
(Well, ok, if I really wanted to I could but it would take way too long and be way too annoying to set it all up. Who's got time for that?)
All my stories and expressions
I don't mean that I need a million portraits of me.
What I would love is storytelling photos that feel like me.
Like, me on photo shoots so people can imagine themselves working with me (and get a feeling for how relaxed and fun it can be), having client meetings, hanging out with my dog, relaxing outdoors, wandering around Stockholm scouting locations, all my different expressions and all the details.
I want all the stories that help people get to know, like and trust the real me.
I want to capture the way the light changes throughout the year – and with that how my mood and day-to-day life changes.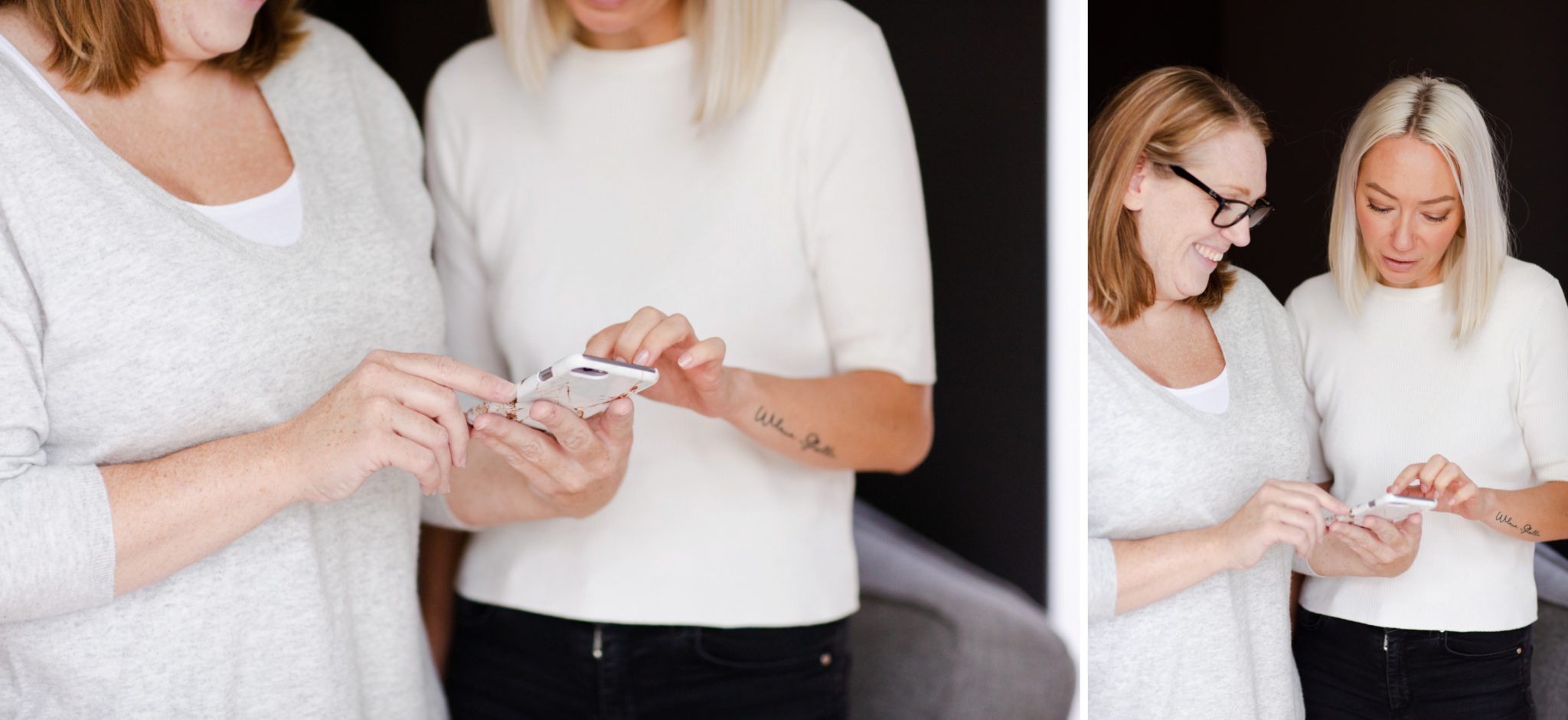 Time to top up my image library
I love the photos that my own photographer, Pia Gyllin, took of me on my last photo session, but I want more.
New locations that are even more on-brand, new expressions and stories and new outfits.
I've changed a lot since then. And by that, I mean my mindset and who I am as a person, but also physically. I want to capture this. (Hands up if you're using an old photo as your profile?)
So, we've booked in a new photo session and I can't wait. But I seriously wish I had Pia hanging around with her camera all the time.
Your photo session doesn't need to be a big, one-off thing
A lot of my clients book in several sessions each year and when we've finished one session, they're already looking ahead and planning for the next one.
No, it's not because they love being in front of the camera. And no, it's not just because they love hanging out with me.
When you're keeping your website up-to-date, staying active on social media and really marketing your business effectively, you need fresh content throughout the year.
So many of my clients have asked for some kind of subscription service, so I've created just that. I couldn't be more excited.
What exactly is included in the annual subscription?
3 Brand Boost sessions per year
Each session includes:
a half day photo session (up to 3 stories/about 3 hours)
40 edited digital images for your web, social media, marketing materials (and everywhere else you need photos to attract your dream clients)
Why would I want more than one session per year?
to keep your photos fresh and up-to-date (it doesn't matter how much you love your photos, you always get to a point when you want new ones)
so your photos are aligned with the changing seasons (it feels odd to share summer photos in the middle of winter)
to capture a range of expressions and feelings
to capture new stories that give your audience a better chance to get to know, like and trust you as a person and professional
to show more aspects of how you work
to show new products, or create fresh content for old products
so you have visual content for new launches
to capture different events you may have throughout the year
so your photos are aligned with your growth – personal, mindset and in your business
to capture new locations
to complement new content ideas and marketing materials
spreading the investment out over a full year would make budgeting easier
But I hate having my photo taken. Why would I put myself through that more than once??
Here's the thing. Some people have one photo session once and that's it. That's a lot of pressure on that one session and those photos.
But when you can plan three sessions per year – and especially when they are relaxed, storytelling sessions – it makes the whole experience so much more fun and relaxing. (When I first started doing brand photography, I never expected to have clients tell me that it's addictive.)
I really want my sessions to feel like we're old friends hanging out for the day – I just happen to be taking photos while we're doing it.
The more you do it, the easier it gets.
Need help choosing your outfits and with your hair & makeup?
I've got you covered.
My dream team can help you and we can add this on to any of your sessions (or all of them).
Want to chat more over a coffee?
I will only be booking in a limited number of subscription clients per year and it's really important that we're a good match for each other.
So, if you're interested in the subscription, click on the button below so we can book in a virtual coffee date to chat more.
I'm also happy to chat if you're wondering if this is the best option for you. (I will only book in clients that I think I can really help and who I think need this. If I think a single session would be a better option for you, I won't hesitate to suggest that.)